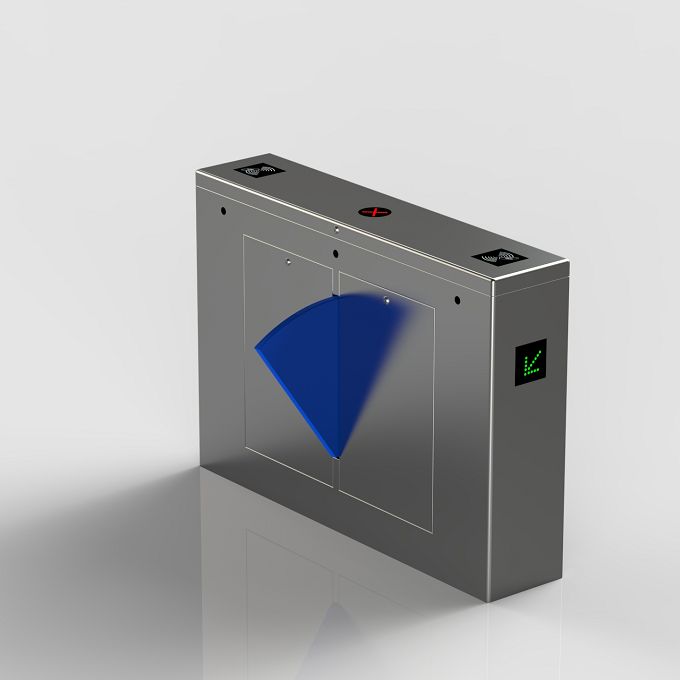 Add to Favorites
Share
High Security Flap Ticket Turnstile Barrier Gate with Card Reader
Payment

Origin

China Mainland

Minimum Order

1

Packing

Pieces
Product Detail
Automatic flap barrier for access control
1.Power Supply: AC220V±10V ,50Hz / AC110V±10V ,60Hz
2.DC Motor: 100w/24v
3.Temperature: -15 °-60°
4.Humidity: <95%, without concretion
5.Passage Width: <=600mm
6.Passing Speed: 30 persons/min (Normal open),20 persons/min (Normal close)
7.Input Interface: +12V electrical signal or impulse signal with width more than 100ms, drive current >10mA
8.Communication Interface: RS485 (Distance: <=1200m)
9.Flap barrier Arm Open and Close Time Length: 1s
10.Passage Width: 600mm (Our standard) <=900mm (each unit)
11. Material: Housing - 304 stainless steel

Features and specifications:
1.Unique incomplete wheel transmission.
2.Running stable, little noise and no mechanical impact
3.Self-checking-power-on function, if power on, flap barrier will auto get to be held.
4.Flap barrier will auto alarm when some unauthorized person gets in.
5.Various working means can be set in the control panel menu, namely: bi-direction card reading passing, or one direction card reading passing and another passing limits, or one direction card reading passing and another free passing, etc.
6.If power off, arm will open automatically while power on late.
7.It is with RS485 connection for far control arm up and down to satisfy the special needs or fire control requirements.
8.It is with standard electrical interface to connect various kinds of readers and writers for easy integration and also computer far control and management can be realized by computer.
9.Passing direction will be shown by LED and passengers will know which direction is allowed to pass.
10.Re-position function. After card reading, if passenger not through within the specific time, system will auto cancel passing right for this time and the limit passing time length can be set.
11.Optional:
1)Counter and counter display
2)Access controller or card reader
3)Key by-pass

Packaging & Shipping
Package:
1.Size:1550x350x1060mm
2.Gross Weight: 110KG
3.Package: Export packing, plywood box

Our Factory:

Applicable scope

1)Transport: railway stations, subway stations, airports, stations, terminals and so on

2)Entertainment: swimming pool, tourist attractions, business clubs, playgrounds, cinemas and so on

3)Commercial service places: shopping malls, supermarkets, hotels, clubs, banks and so on

4)Science and Education office units: business buildings, government agencies, schools, libraries and so on

5)Property units: district, factories, construction sites, new real estate and so on

6)Special passage control and so on.

FAQ:


1.Can we use our access control system?
Yes, equipped with international interface, can be easily integrated with other recognition devices.
2.If we buy your products, can you train us?
Yes, we can provide training free of charge. You can send your engineers to us, we will train them in our factory.
3.Can you make it bi-directional? Any extra cost?
One direction or bi-direction is available, no extra cost.
4.Can it use for outdoor?
Yes, can be used for outdoor and indoor.
5.What's you warranty?
We provide one year warranty. After that, we can supply chargeable spare parts.




4
YRS
Shenzhen Anxia Heavy Industrial Co.,Ltd
China
Favorites